Obituaries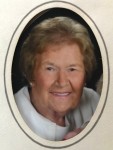 Harriette Penney
Ayers
Ansbach
March 25, 1938
-
December 27, 2019
Born in Newton, New Jersey
Resided in

Frankford Township

,

New Jersey
Obituary
FRANKFORD TOWNSHIP -- Harriette Penney Ayers Ansbach, 81, passed away
Friday, December 27, 2019 at Morristown Medical Center surrounded by her loving
family and friends.
Born in Newton Memorial Hospital on March 25, 1938 to Albert and Frances (Penney)
Ayers of Frankford, Harriette grew up on her family's dairy farm alongside her brother,
James. She also had two younger sisters whom her family lost to cystic fibrosis; Marian
(18 months) and Virginia (seven years).
After graduating from Newton High School in 1955, Harriette attended Centenary
College. Upon graduating college, she worked for attorney Albert Silverman in Newton,
and went on to work for the Swedish import company, Genes, in New York City.
Harriette married fellow Newton High School graduate Charles (Butch) Ansbach in
1960, and they built a house in Frankford where they began to raise a family. Harriette
lived in that house on the "family compound" until the time of her death.
Harriette gave birth to four children before returning to work in 1971 as an insurance
agent for The Branchville Agency, where she was employed until her retirement in
1996. She loved this part of her career, working for Richard Harris, a man she
respected and admired, while also getting the chance to work much closer to home and
dedicate herself even more selflessly to her family.
Upon retirement, Harriette and Butch traveled throughout the world, enjoying the many
wonderful sites and people they came to know along the way. Retirement also afforded
Harriette more time to indulge in her favorite pastime--gardening. No matter the time of
day, Harriette could always be found in one corner or another of her expansive gardens,
surrounded by a variety of gorgeous flowers. Much like her beautiful gardens brimming
with life, Harriette's friends and family were nourished and made whole by the selfless
care, unwavering commitment, and unconditional love that were her life's hallmarks.
A longtime member of the United Methodist Church of Branchville, Harriette was
remarkably committed to and active in her church, including serving as finance chair,
trustee, and pastor/parish relations committee member. She found great strength in
attending Sunday worship service and joy in being with her church family. In addition,
Harriette was an active member of her community, serving on the Frankford Zoning
Board, Board of Health, and Branchville/Frankford Recreation Department. She loved
her community and believed it was her civic responsibility to help others. As time
passed, Harriette enjoyed reading, going to the movies and theatre with good friends,
and discussing politics and current events. Harriette was loved and will be missed by all
who were fortunate enough to know her.
Mrs. Ansbach was predeceased by her husband of 50 years, Charles (Butch) Ansbach,
and her sisters, Marian and Virginia Ayers.
She is survived by her four beloved children, Jeffrey of Florida and Costa Rica, Kimberly
and her husband, Luis Blanco, Lori and her husband, William Eckert, and Sue and her
husband, Steve Salvesen (all of Frankford); her brother, James Ayers, and his wife,
Lana, of Frankford; her seven wonderful grandchildren, Ian and Emily Blanco, Carly and
Jane Satter, and Chelsea, Will, and Tucker Eckert (all of Frankford); her sister-in law,
Barbara Hatch, and her husband, Lenny, of Delaware; Dave Satter, and his wife, Kathy,
of Frankford; as well as many cousins, nieces, and nephews.
Visitation will be held Friday evening, January 3, 2020, from 2-4pm and 7-9pm at Wood
Funeral Home, 16 Main Street, Branchville, NJ. A Celebration of Life Service will be
held on Saturday, January 4, 2020 at 11am at The United Methodist Church in
Branchville, 8 Broad Street.
In lieu of flowers, donations in Harriette's memory may be made to the United Methodist
Church in Branchville, PO Box 509, Branchville, NJ 07826
To plant a tree in memory of Harriette Penney Ansbach, please visit our
Tribute Store
.
Services
To plant a tree in memory of Harriette Penney Ansbach, please visit our Tribute Store.
Memorial Visitation
Wood Funeral Home
16 Main Street
Branchville
,
NJ
07826
Memorial Service
Branchville United Methodist Church
8 Broad Street
Branchville
,
New Jersey
07860